Process & Workflow Management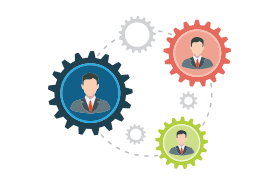 Process Documentation:
Generally, when people hear "Process Documentation" they think about the narrower topic of "Process Mapping". But really business process documentation includes any and all documents that go to support a process as well as the conduct of process discovery, process mapping software and policies and procedures templates.
Process Improvement:
Understanding the principles of business process improvement (BPI) is one thing, but putting those principles into practice is even better. This is the fun part where business process improvements that help people communicate and cooperate more effectively are initiated and we can finally remove some of the office angst we all know so well. This section touches on Kaizen and Lean but there is not much on Six Sigma except to say how difficult (OK, impossible) it is to apply to information based processes.
Process Mapping:
One of the first things you need when initiating a process improvement project is a process map. It's the best way to get a clear picture of what it is exactly that everybody does. Even the process mapping process itself is of value. As you stand in front of the group, trying to pull the details of each person's tasks and responsibilities out of them, it may seem slow going at first. Usually, not every member of the team has an equal amount of buy-in to the whole concept of process improvement. Before long however, after a few people have spoken up and their comments converted to post-its on the whiteboard behind you, what seemed like a trickle of ideas can soon become a flood. A process map is an excellent tool to detail workflow and identify areas where it will be possible to improve cycle times, efficiency and/or communication.
Unstructured Process:
Not all processes fit the BPM mold. Some are event driven, they spring up out of nowhere (you'll find several in your email right now). You have to deal with them without the benefit of a neat little process diagram. Even processes that are supposed to be routine have exceptions. Sometimes so many exceptions that they cannot be reduced to a diagram. These are called Unstructured Processes.
Process & Teams:
If you want to be successful with process, it pays to remember that processes are operated by humans. Those humans, fallible and idiosyncratic as we all are, may not all be 100% on board with a management decision to introduce new systems and processes. Here you will find articles on ways to motivate and engage your team while you introduce new business processes and to maintain their interest and support for BPM concepts in the longterm. You will also find posts regarding the politics of change management.
What are you waiting for?
Get access to tools to help you better manage your company without going it alone