NextGen Group Mindshare Event – Q3 2021
2021 Mindshare Event
"Save the Date" Announcement
NextGen Technology Group is pleased to announce the first post-pandemic Mindshare educational, collaboration, and training event of 2021 in Charlotte, NC on Monday, August 30th and Tuesday, August 31st.
This event will be held at the Embassy Suites Hilton Charlotte Uptown. The Embassy Suites by Hilton Charlotte Uptown hotel is located across from the Charlotte Convention Center and the NASCAR Hall of Fame. This Uptown Charlotte hotel is just a short walk to Bank of America, Wells Fargo, Spectrum Center and Bank of America Stadium and is also close to EpiCentre shops, restaurants, nightlife, and the Lynx Light Rail, allowing for quick movement around Charlotte.
This NextGen Q3 Mindshare event will be packed with updates, announcements and member/industry interaction at a deep level. The commitment to NextGen 2.0 continues with additional strategic vendor partners who will be joining us with updates. New vendor partner announcements expected prior to the event. Firelight Media will be joining us at this event with full video recording studio setup in nearby room for planned rollout of member videos. Stay tuned for detailed information to sign up. Sponsored weekend entertainment includes Nascar Hall of Fame & Charlotte Knights baseball game outing. You can expect the full agenda by next week.
This meeting will be located in a spacious event room with open access to WiFi for the duration of the event ensuring our members stay connected where needed. Additionally, all event meals are included.
We look forward to gathering with you in Charlotte, NC and once again working through the things that will take our businesses to the next level. Reserve your spot today!
Lodging & Travel Information
Embassy Suites Charlotte Uptown
NextGen Room Rate: $135 per night
We also have a limited number of rooms reserved for the Friday and Saturday prior to the event. We suggest that you book as soon as possible if you would like to come early. If you have any questions, concerns or issues with the booking process, please let us know and we will contact the hotel management to assist!
Booking Link:https://group.embassysuites.com/3qdfa or call the hotel directly at (704) 940-2517 and mention the NextGen Group Rates.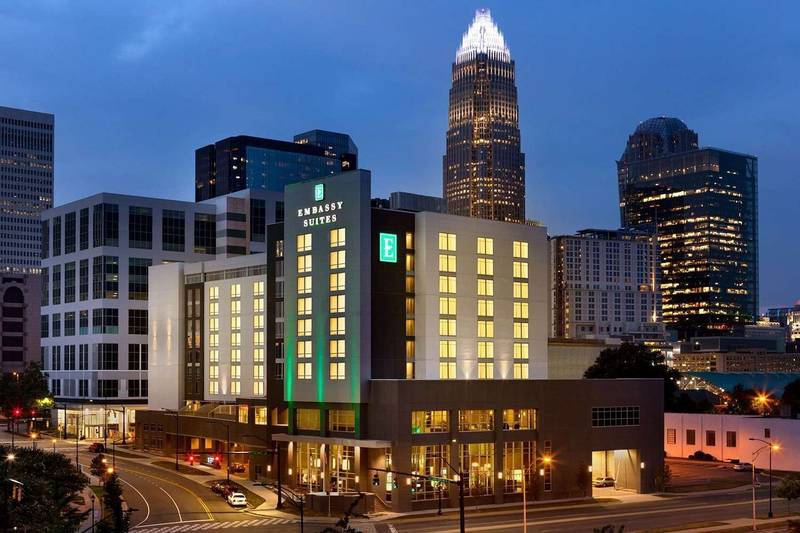 Highlights
Uptown Charlotte hotel a short walk from banks, energy and legal headquarters and shops
Sports venues and cultural attractions within easy walking distance
On-site lounge, coffee shop, café, room service and sundries area
250 spacious suites with connecting rooms and accessible suites available
Uptown Charlotte hotel with fitness center, saltwater indoor pool and upper sundeck
Transportation Options
Charlotte/Douglas International Airport
Directions
Follow Uptown Charlotte directions from airport. Property is located off John Belk Freeway, I-277, Exit 1E-Caldwell Street. Take Caldwell Eastbound to MLK Blvd-turn left, hotel is located on right.
Distance from Hotel: 10 mi.
Drive Time: 20 min.
Registration Instructions for Mindshare Event
(It is very important that you register for this event. We are always working hard to make sure that we have made preparations for you and can only do that if we know you are coming.

)
Make your reservations for flight and lodging by Monday, August 2nd.
Send an email to Candace Roberts at candace@nextgengroup.net.
Please include the following information on everyone from your company that is attending:
Full Name
Email Address
Cell Phone Number
Any special dietary requirements
Travel plans
See you in Charlotte, NC!
What are you waiting for?
Get access to tools to help you better manage your company without going it alone