Business Management Software
KASEYA® BMS™
Kaseya Business Management Solution All You Need to Run Your Business
Kaseya BMS is the most functionally rich business management solution on the market today, to support all your business back-end requirements at a fraction of the price of the competition.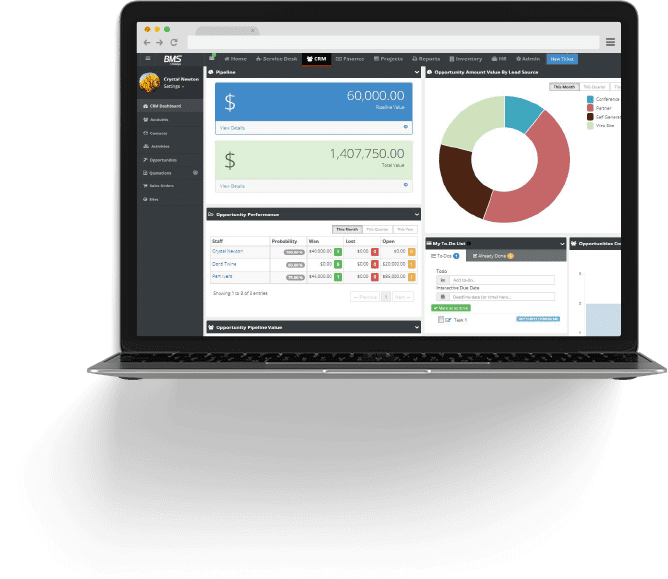 OVERVIEW
Finally. A Business Management Solution for Today's MSPs
Kaseya BMS is a next-generation business management solution that was built specifically to help MSPs spend more time selling and delivering services, and less time on non-revenue-generating tasks like billing and project management.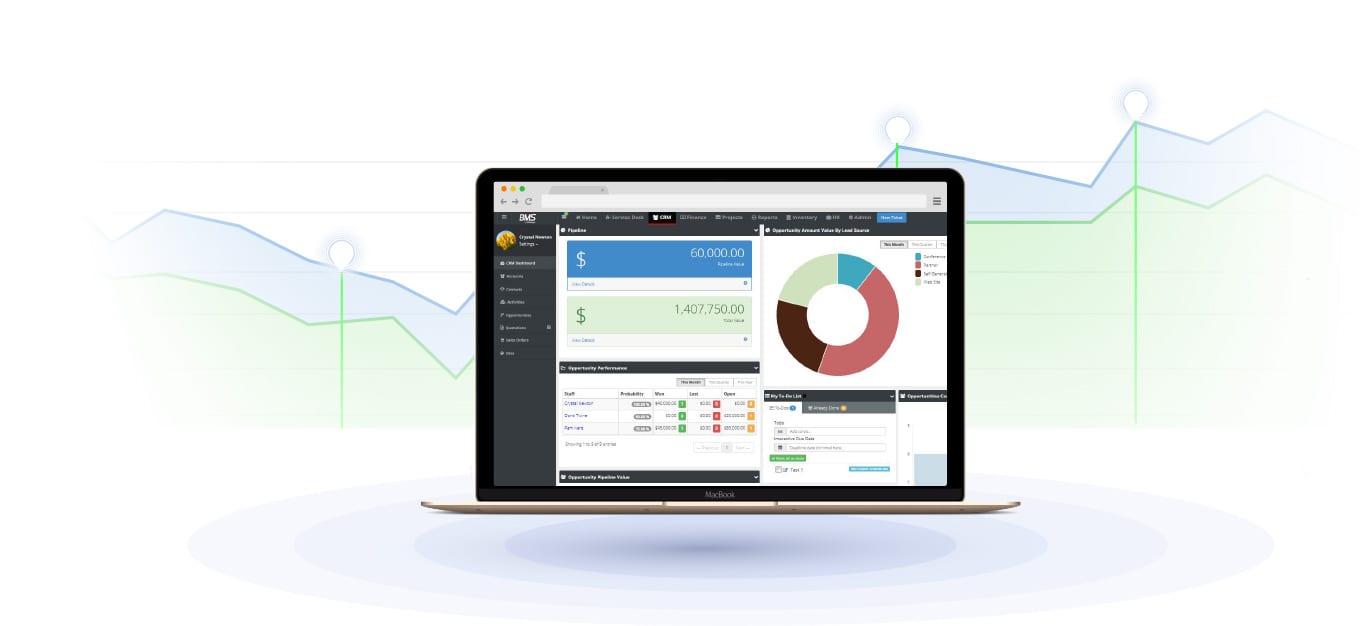 Project Management
Effectively staff projects and get real-time project status reports, while also improving forecasting through comprehensive project management
Time & Expense Tracking
Get accurate, real-time data on time and expenses by company, project and employee – no more estimating needed!
Finance & Billing
Simplify billing by automatically creating invoices from time entry and expense reports, and integrating with accounting software like QuickBooks®.
Inventory
Track inventory, procurement or vendor issues in real-time so you can always stay on top of any issues that come up, as well as make better plans in the future.
CRM
Maximize your relationships with customers and prospects by keeping track of current accounts, new revenue possibilities, and all past communications in one, simple-to-use system.
Service Desk
Spend less time tracking tickets and more time making clients happy with a complete help desk and ticketing solution.
Build Your Business
Successful MSPs and IT Departments know they need to keep up with changing customer needs and technologies. No matter what new services you may offer, or challenges you may face, Kaseya BMS gives you the tools you need to build a successful IT business. Let's start building your future together.
BENEFITS
Happy Customers and a Healthy Business with BMS
Imagine a world where your business is running smoothly and efficiently, while saving you money on operational costs. It's more than just a dream, with Kaseya BMS you'll enjoy the following benefits.
Reduce Operational Costs
Recover budget wasted on non-revenue generating services and reinvest
Views For Every Role
Easy to use workflows and dashboards made to fit your business requirements
Time For What Matters
Spend less time on billing and projects, and more time on strategy and growth
Improved Customer Satisfaction
Improved response times, organization, and project delivery makes for happy customers
Better Insights, Better Decisions
Dashboards and reporting empowering you to make the right decisions
Easy To Use, Yet Powerful
Simplicity of use without compromising key functionality
What are you waiting for?
Get access to tools to help you better manage your company without going it alone